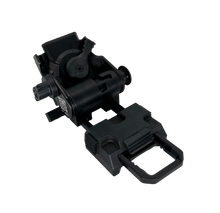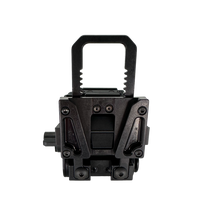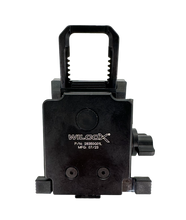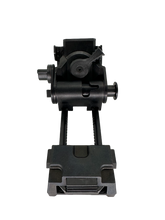 Wilcox has been the name in the game for modern night vision mounting solutions.
The Wilcox G24 Lite NVG Helmet Mount is a hybrid of the renowned G24 and lightweight G69 mounts. The G24 Lite utilizes the lightweight travel carriage of the G69 mount (which does not contain magnets) for a 12% weight savings, while maintaining durability for rigorous use. The Wilcox G24 Lite weighs 5.19 ounces, in comparison to 5.86-5.91 of the non Lite model. The magnets used in the non Lite model work with the Wilcox auto off J Arm to allow for the auto off function when a PVS-14 is put to stow. This arm has been discontinued; for the vast majority of all other devices commonly used and other mounting solutions used, the magnets serve no purpose and only contribute to total weight. 
With a dovetail shoe interface, the G24 Lite offers near universal mounting compatibility. During the G24 Lite's initial development, extensive operational input was considered and since it's initial fielding, millions of operational hours have established operator muscle memory. Pioneering the "break away" feature, safety is built into this mount's design; Under stress, the mount will break away from the base, reducing the potential for neck injury. The G24 Lite maintains the same extended travel distance as the standard current generation G24 line of mounts.
Features
Dovetail shoe interface securely locks NVG's into place.
Breakaway feature reduces the risk of neck injury.
Ergonomical adjustments allow for one handed operation.
Maintains a very low-profile on the helmet.
Rail interface & extended models available.
Developed & battle proven by U.S. & NATO SOF.
 ITAR Restricted. 
Cannot ship outside of the United States or to forwarding addresses. No exceptions.