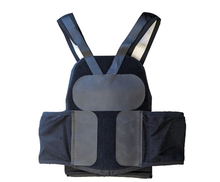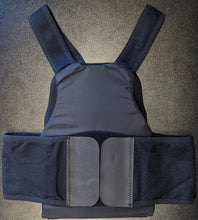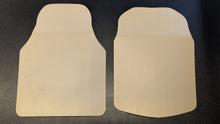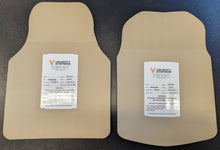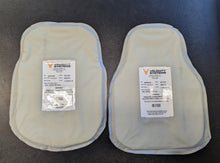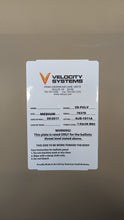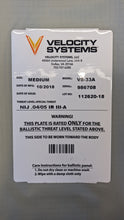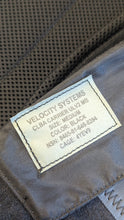 Velocity Systems has been known for quite a while within circles as the premier gear manufacturer for the State Department and other agencies. The ULV (Ultra Low Vis) system is one of their most well known innovations. Specifically Designed for the State Department  for use in covert operations, the ULV almost disappears under most any t-shirt. 
The ULV plates themselves are made from steel, although not disclosed by Velocity it is assumed to be AR500. At nearly 9 pounds per plate (4 Kilograms) and only 5MM thick these plates are top notch. 
These sets will ship brand new in box. These are all new old stock. 
Buyer's Note: Warranty is unknown and we cannot honor any warranty through Full Metal Jacket LLC. These are sold as collectors items but could definitely still be used.  No returns or exchanges will be accepted whatsoever.
Armor Specs:
Steel ULV Plates rated for 7.62x39 MSC 
3A Soft Armor is NIJ Listed and Rated for Common Pistol Threats
ULV2 MB Specs:
Will grip the body or shirt that it is worn over unlike the original ULV that is made with a non-friction material and tends to slide around on the base layer 
Designed to protect vital body zones during low visibility missions 

Made with an air mesh interior and compression outer carrier 

Allows shirts to hang in a natural way and permits uninhibited body movement 

Carrier can fit both Steel and Soft armor simultaneously or stand alone 
Part Numbers and NSNs:
ULV Plate Part Number: VS-PULV
ULV 3A Panels Part Numbers: VS-33A
CLBA Carrier ULV2 MB Plate Carrier Size NSNs:
Small Plate Carrier: NSN: 8465-01-6468336
Medium Plate Carrier: NSN: 8465-01-646-8294
Large Plate Carrier: NSN: 8465-01-646-8338
Cannot ship outside of the United States or to forwarding addresses. No exceptions.