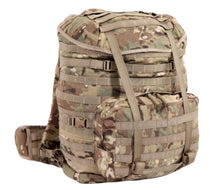 The MOLLE 4000 Rucksack was designed to be an updated design to the standard MOLLE II rucksack. The MOLLE 4000 is named as such due to it's very large 4000 cubic inch capacity. The MOLLE 4000 is designed to be jumpable per US Army airborne standards and was designed based on Soldier's suggestions and input. In our experience all of the MOLLE 4000 rucks we've seen have been marked as "TEST ITEM" and doesn't carry much significance. 
These rucks are in Like New condition but may have fading, small tears and other minor visual defects but will all still be in serviceable condition. 
NSN: 8465-01-F90-2235
These are void of CAGE codes but were more than likely manufactured by Propper. 
Made in USA
Nearly 4000 Cubic Inches
Durable polymer Gen IV frame
Again these are surplus; surplus means it is a grab bag of conditions. Unless stated otherwise in the item description, there will be no unrepaired holes larger than a pin prick or broken seam. There may be repairs, but they're done well.