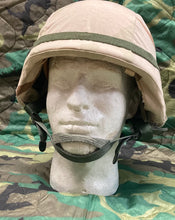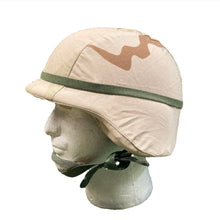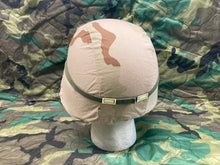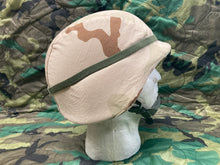 Although the PASGT helmet was originally introduced with a woodland and later 6 color desert helmet cover, gear and camouflage updates meant it was not long before a helmet cover was made to match the new desert uniform: the DCU. 
The DCU or Desert Camouflage Uniform was a simplified and arguably improved pattern over the previous six color desert, or DBDU. 
Helmet covers are all USGI, and will be either ripstop or twill. No selection unfortunately.
They come in various sizes, and differ slightly from the sizing on woodland PASGT helmet covers.
 All covers will be in a good, used condition. But will be free of major defects or tears. Most will have signs of having been deployed or worn. 
 NSN's:
Extra Small/Small: 8415-01-327-4824
Medium: 8415-01-0327-4825
Medium/Large: 8415-01-327-4825
Large: 8415-01-327-4826
Extra Large: 8415-01-327-4826 (XL)
O.D. Cateye bands sold separately.
Mostly a 50/50 NyCo Twill.