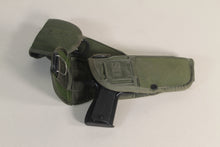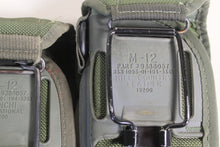 Good used condition M12 holster. 
Made by a variety of US Government contractors, some more commonly seen ones are Hill Country Leather, and Cathey Enterprises. 
These will fit either standard size 1911 or M9 pistols as long as they don't have any added lasers, lights, or sights. Should also fit most standard size pistols, as these are fairly universal.
These can be set up for either left or right hand use by easily swapping the top flap over. 
Can be easily attached to most belts via two clips on the back, although they were originally meant to be used with US ALICE belts. 
May or may not have plastic cleaning rods included.