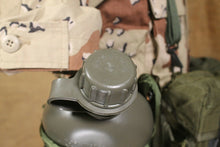 One (1) USGI Rifleman Set, consisting of:
One (1) LARGE LC3 pistol belt to fit waist 31" to 55"

One (1) LC2 suspender yoke

Two (2) LC2 M16/M4 triple mag pouches

Two (2) LC2 canteen pouches

Two (2) brand new USGI canteens
Please note that the exact shades may vary. We do our best to have the canteen pouches and ammunition pouches match each other in shade, but due to Government manufacturing cannot promise exact matches. 

All items are brand new USGI, 100% Made in the United States.
Canteens are 100% brand new, and unused. 

Uniform not included.
Made of nylon with ALICE clips.
Allows for the easy and comfortable carrying of 6 x 30 round M16 magazines, four grenades, and two quarts of water.
Uniform not included.