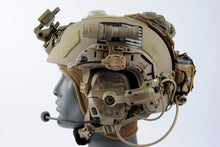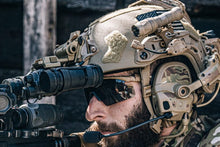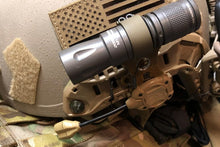 THE MOST COMPLETE AND FLEXIBLE HELMET ACCESSORY MOUNTING SOLUTION AVAILABLE
KNUCKL™ is a modular helmet accessory mount for use on helmets equipped with accessory rails such as Ops Core, Team Wendy, Crye and others. It offers tension-adjustable 3-axis articulation and the ability to mount up to two accessories depending on your mission. The mounting interfaces accept most Unity FUSION accessories. It also incorporates a socket to accept the Wilcox Retention Lanyard to retain the gear during a break-away.
NOTE: KNUCKL is not compatible with Team Wendy Helmets when used in conjunction with helmet mounted hearing protection. If you are looking for this combination, please look at MARK + REMORA for TW Helmets.
Compatability:
KIT INCLUDES:

KNUCKL Mount
Arc Adapter
Team Wendy Adapter
MPLS Adapter
Contour Camera Adapter
Rail Section
Mounting Hardware
 ITAR Restricted. 
Cannot ship outside of the United States or to forwarding addresses. No exceptions.