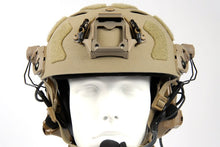 The Modular Attached Rail Kit (MARK) 2.0 allows the end user to seamlessly integrate their hearing protection and/or integrated communications into their headborne systems and improve the consistent seal of ear protection. The MARK 2.0 is compatible with most major helmet types and the most popular electronic hearing protection.  The MARK 2.0 Kit will work with 3M Peltor™ Headsets right out of the package.  If attaching to Sordin/MSA™ style headsets, use the SARA Adapters (sold separately).
The MARK 2.0 Kit comes with all hardware for attachment to Ops-Core ARC™ (and similar) and Team Wendy EXFIL™ Gen 2 and 3 rails.  An M-LOK™ Adapter Kit is sold separately for compatibility with MTEK and Hard Head Veterans brand helmets.  The wider ARC™ backers allow for more compatibility with non-standard ARC-type rails than the previous model.
MARK 2.0 is the lowest profile headset helmet mount on the market.  Rather than using a traditional pop-in/pop-out mechanism, MARK2.0 is simply pulled away from the ears and rotated backwards for stowage.  The aggressive wire forms ensure the strongest ear cup seal when engaged.
Constructed of impact-resistant polymer, the MARK 2.0 is designed for use in the most austere environments.