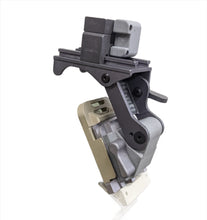 Norotos has been the main contractor when it comes to unit worn night vision mounting for US Military ground forces. The Rhino mount has seen few variations over the years and that's because simplicity works. The Rhino 2 has a very instinctual design with no additional flare making it easy to use without any training. This mount features fore/aft travel, tilt adjustment as well as 1 inch of vertical adjustment. 
  The Rhino Mount mounts into any helmet shroud that has a universal interface such as the standard MICH and PASGT shrouds, the OpsCore VAS Shroud, Wilcox L4 One Hole Shroud, and the Norotos Universal Shroud. The Rhino will accept any night vision device or adapter with a standard bayonet interface. It has an auto shut-off feature that will turn off the night vision device when it is flipped up over the helmet so the lit-up green glow from the eye piece lens does not show down-range.
Being the Surplus nature these mounts way have scuffs, scratches and dings; however we ensure that each mount that leaves the store will be the best condition ones we have. There may be a little bit of dirt or a scratch but these will all be in good, working order.
NSN: 5855-01-612-5116
ITAR Restricted. 
Cannot ship outside of the United States or to forwarding addresses. No exceptions.