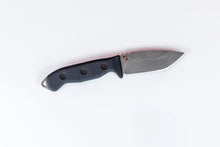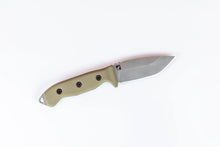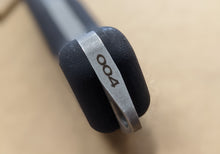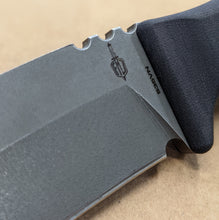 When our friend Erick first came in and showed us the Raven Knives Corvus prototype and we were in love. The Corvus; designed and manufactured by Randy Stover, a retired Special Operations operator is already making it's rounds in the knife and special forces community. 
We are proud to be the first stocker of Raven Knives and we plan on helping Randy grow as a business and get the word out there about just how cool these knives really are!
The Corvus is the flagship knife to be designed and released by Raven and it doesn't fall short of many other high end knife manufacturers in the game. 
The Corvus is a stout full tang knife designed to be an all around heavy use blade.  It's intended for the military, law enforcement, first responders as well as hunters and outdoors enthusiasts.  Raven kept the spine angle aggressive and it easily throws sparks from a ferro rod.  The slimmer handle design keeps bulk down for such a robust knife. 
Raven's blades are acid etched and stone tumbled to achieve a "perfectly imperfect" finish.  The finish is intended to reduce reflection and glare and keeps with the overall aesthetic of a tool knife.
Corvus features a slight thumb ramp with deep jimping with a well pronounced finger groove ensuring that the user maintains a great connection to the knife. Raven also integrated a lanyard hole into the window breaker / blunt impact edge.
The Specifics:
Steel: CPM S35VN
Rockwell Hardness: 59/61
Overall Length: 8.5"
Blade Length: 3.75"
Blade Thickness: .187" (3/16")
Overall Thickness: .7"
Height: 1.3"
Finish: Acid Etched Stone Washed
Handles: G10 or Micarta
Sheath :Each knife comes with a custom fit Kydex sheath with belt and MALICE clip
Other kit contents: 2 Raven Logo stickers, 1 pen, 1 length of paracord, purchase thank you letter/certificate of authenticity
This inaugural wave has the Full Metal Jacket Logo laser engraved on the reflection of the Raven logo as well as a unique serial number between 000-010 on the bottom of the Tang.
000: Store raffle for grand re-opening event (TBA)
001-004: Black G10
005-008: Brown Micarta
009-010: Green G10