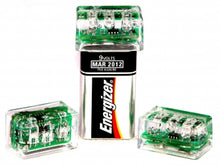 The Phoenix Jr. Infrared Beacon from Cejay Engineering, emits an IR signal that is visible at long range through a night vision device. This highly portable signaling unit flashes a constant signal when the battery is attached. It is easy to operate under water or in a clothing pocket (like all IR signal units, the transmission can be seen through clothing).

These great little devices are perfect for your outdoors survival kit. If you do any sort of nature-related activity, there is no excuse to not have some sort of active IR signaling unit on your person in case things go bad and you need rescue. The Phoenix Jr. attaches directly to the top of a standard off-the-shelf 9V battery. Just store the Phoenix Jr. upside down over the battery contacts and run some electrical tape over it for security and you are good to go. The Phoenix series of IR beacons has been in use by US and Allied Military units for years. It has proven to be a very effective tool in Escape & Evasion kits.
NSN: 5855-01-438-4588
 *NO WARRANTY GUARANTEED AS THESE ARE NEW OLD STOCK SURPLUS*
ITAR Restricted. 
Cannot ship outside of the United States or to forwarding addresses. No exceptions.