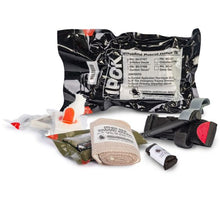 North American Rescue is the name in modern trauma care, with plenty of innovative medical gear and packaging. NAR created the IPOK as a basic refill kit with all the basic necessities to "Stop The Bleed". 
This kit includes the following:
1x S-Rolled Gauze
1x Combat Application Tourniquet (CAT) Gen 7
1x 4" Flat Emergency Trauma Dressing (ETD)
1x Pair of Black Talon Gloves (Size Large)
P/N: 80-0167
All items in this kit are in date and brand new stock. We do not assume any liability for misuse of anything in this product. We do recommend getting the proper training before using any medical equipment. Train and save a life.