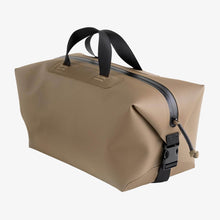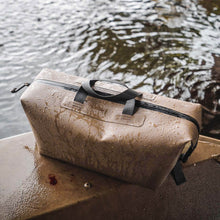 Magpul is the name that comes to mind for most people when they mention AR-15 accessories. There is a good reason why that is; as their parts are bombproof and virtually indestructible. Their pouches are no exception. 
The DAKA line of products feature a high strength reinforced polymer fabric that is resistant to almost any liquid. 
The Magpul DAKA Takeout, Large is an 8.88-liter kit bag that includes the same reinforced polymer fabric and features of the rest of our popular DAKA line. It has an expanded storage area that makes it an exceptional on-the-go auto emergency kit, at-home toolkit, range bag, or other readiness kit where you need extra space and organization.
The 18.5-inch, full-length YKK AquaGuard® water-repellent zipper provides easy access to your gear. For larger items, the two quick-release buckles located on each side can be released for a taller and wider opening. In addition to the two side buckles, two carrying handles located on the top of the bag make handling the Takeout, Large easy, even with heavier loads. The reinforced base also provides structure and support when stowing heavy or bulky items. The carrying straps can be unbuckled and looped around an elevated object so you can hang the Takeout, Large above the ground.
Like all our DAKA products, the 14.6 oz. Takeout, Large is made from polymer-infused textiles that are RF welded on all seams and include our secure, water-resistant zipper. The construction methods and materials used in our DAKA products mean that they're easily transportable and ready for hard-use wherever you take them. They'll also keep your items dry in most wet environments, making them a great choice for most outdoor adventures.
Reinforced Polymer Fabric with Anti-slip Texture
Welded construction for permanent, impenetrable seals
YKK Aquaguard water repellant zipper
550 Paracord with heat shrink tubing for enhanced grip
Buckles provide a secure connection wherever you hang the Takeout, Large and also act as a carrying handle