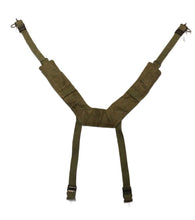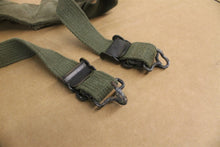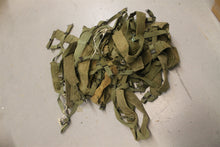 First Pattern M56 Suspenders
The trusty M56 suspenders: The first venture into recognizably modern field gear from the U.S. supply system. Before these, most of our field gear was a weird cotton bondage set that made sense when all put together and used in one particular way, but it wasn't modular and it certainly wasn't usable when using any other weapon other than the issued one.
The M56 suspenders are a padded felt yoke with cotton canvas on the outside and 1" cotton webbing straps going down to connect to the belt. These were designed to be used in conjucntion with a buttpack, but you can attach these directly to any belt with the M1910 hanger hook system eyes installed.
These are genuinely some of the most comfortable suspenders there are, and are an excellent option if you aren't married to only using one specific system on your belt rig.
The first pattern suspenders here have a bent and welded wire set of hooks that do not close. They work well enough, but there's a reason there was a second model.
In terms of sizing, these need you to use a buttpack or have a short torso. If you are taller, you will need the second pattern, which we also have for sale.
100% cotton construction with brass, steel, or aluminum hardware.