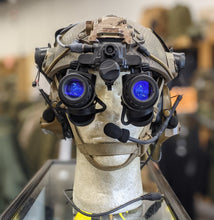 L3 Harris is the leading name in Night Vision devices when it comes to military spec night vision devices. The BNVD AN/PVS-31A is one of the lightest binocular night vision devices currently available on the market. This unit is also has the highest Field of Merit (FOM) at 2376+ White Phosphor which offers maximum clarity in the darkest situations. The unit also offers an onboard AA battery capability as well as an external battery pack capability (included). 
Specs:
Tubes: L3 2376+ FOM White Phosphor
Weight: 450 g (1 lb) including AA battery
Field of View: 40° ± 2° deg. (horizontal & vertical)
Objective Focus: 18" to infinity
Warranty: 1 Year through L3 Harris
Eyepiece Diopter: -0.5 ± 0.1 (factory setting) adjustable from +2.0 to -2.5
Image Intensification: U.S. manufactured MX-10160 Gen III variable gain tubes
Waterproof: 66 ft immersion for 2 hours
Kit includes:
L3 Harris BNVD AN/PVS-31A 2376+ FOM White Phosphor
L3 BNVD Night Vision Battery Cable (LEMO Connector)
Remote Battery Pack (Ability to hold 4 AA Batteries)
Padded Multicam MOLLE Carry Pouch
Rubber Eye Cups
Sacrificial Windows
x2 Wilcox Amber Filter
Anti Fog Wipes
Lens Covers
Operator's Manual
ITAR Restricted. 
Cannot ship outside of the United States or to forwarding addresses. No exceptions. 
For Government and Foreign Government sales please go to our contact us page for more info.