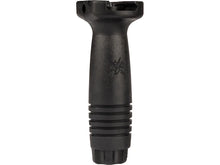 KAC or Knight's Armament Company is considered one of the gold standards in firearms and firearms accessory manufacturers. The KAC Vertical Foregrip or affectionately known as the "Broomhandle" is favored for it's ergonomic and easy to use design. 

The KAC grip is designed to be used on any standard MILSPEC 1913 picatinny rail.
NSN: 1005-01-416-1091
 Current batch are brand new, in plastic. 
ITAR Restricted. 
Cannot ship outside of the United States or to forwarding addresses. No exceptions.