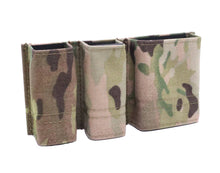 ESSTAC has made a name for themselves with their hybrid Cordura/Kydex pouches. ESSTAC is known for great quality and fantastic modern shooter solutions. 
The 5.56 1+2 side by side kywi is made for STANAG and Double Stack Pistol magazines.
Can be used for right handed or left handed shooters. All you have to do is take the kywi's out and turn pouch around and reinsert the kywi's. This pouch is made for AR-15 style magazines.
This version is the NAKED version without MOLLE/PALS on the front of the rifle mag pouch.
ALL ESSTAC Pouches purchased from FMJ will include Tactical Tailor MALICE clips only. 
 **AK magazines and single stack 1911 magazines will NOT work in this pouch**