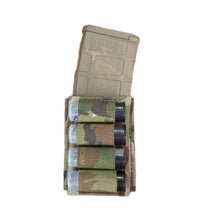 ESSTAC has made a name for themselves with their hybrid Cordura/Kydex pouches. ESSTAC is known for great quality and fantastic modern shooter solutions. 
This pouch is made for STANAG magazines.  "AR15 style magazines". It has 4x elastic loops to hold 12 gauge shotgun cards, just like ESSTAC's shotgun cards.
There are 4 rows of webbing on the back of the pouch. You only use the Top 3 rows of webbing when mounting (not 4).

"pouch is 4.3" tall by 3.25" wide"
ALL ESSTAC Pouches purchased from FMJ will include Tactical Tailor MALICE clips only.