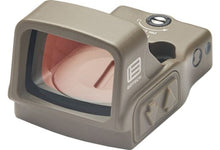 EOtech has been the go to close quarters battle rifle sight on the market since it's development in the early 2000s. Be the first to experience the best red dot pistol sight available on the market. The new EFLX Mini Reflex Sight is EOTECH's first venture into reflex technology optics and has already surpassed the standards of RDS technology, meeting the demands of any serious shooter.
Features: 
Rugged aluminum housing provides durability and dependability in any battle situation.
The large, rectangular window allows the user to find the aiming dot quick and easy and provides a greater field-of-view.
A top loading battery makes for simple battery changes without the need to remove the optic from the pistol.
High-tech front glass is clear and distortion free compared to other red dots that use colors and coatings to display their dot.
The EFLX™ is EOTECH's first venture into reflex technology optics. Designed for pistol use, the base is configured to the Leupold® Delta Point Pro™ footprint and will adapt to appropriately milled slides or onto a rear dovetail mounting adapter. Its durable, heavy duty aluminum housing provides a large, square viewing window, that maintains the same aspect ratio as EOTECH's HWS to make the 3 or 6 MOA aiming dot easy and quick to find. A top load, single 2032 battery provides roughly 20,000 hours of run time. Ideal for professional use to get you on target fast; law enforcement, hunting, home defense, and more, the EFLX can be used on a variety of pistol platforms. In addition to being the ideal solution for a pistol red dot sight, the EFLX can be used as a 1X solution on shotguns or rifles with magnified optics. Read through the additional technical specs provided for more information on the EFLX features and all that make it one of the best red dot pistol sights available.
Technical Specs: 
1.9" x 1.2" x 1" (47 x 30.5 x 25.4 mm)
1.4oz (35g)
Leupold® Delta Point Pro™ Footprint
1 MOA per click
8 daylight settings

1 night vision setting
Powered by 1 X CR2032 battery
Run Time:
Approx 25,000 hours (3MOA dot) at brightness level 5
Approx 20,000 hours (6MOA dot) at brightness level 5
Included In The Box:
EFLX™ Mini Reflex Sight

Operator Manual

Torx Wrench

Multi Adjustment Tool

(2) M4 Screws

CR2032 Battery

Protective Case
ITAR Restricted. 
Cannot ship outside of the United States or to forwarding addresses. No exceptions.