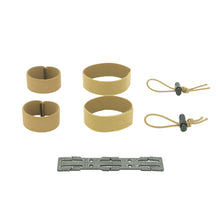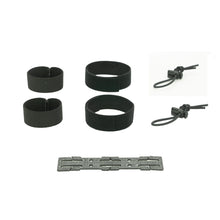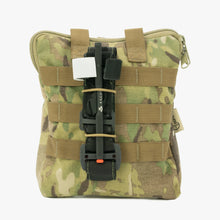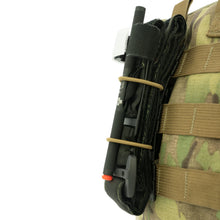 A million unique holders, retainers, pouches, and slings exist for equipment storage these days. Each piece of equipment seems to have its own special–and specially priced–holder to keep that equipment affixed to your gear and readily accessible.
Cole-TAC's Adaptive Gear Stick utilizes lightweight, strong, laser-cut Tegris, providing a platform to store and retain almost anything the modern shooter needs. Cole-Tac's engineers designed this product to fit into any MOLLE system, enabling you to securely strap any gear you need. You can now rest easy knowing you can fasten your essential equipment to your packs, plate carriers, or vehicle-mounted panels.
The Adaptive Gear Stick will securely fit assorted gear of various shapes and sizes thanks to this product's adjustable shock cord, elastic band, and one-wrap retainers. You can use the Adaptive Gear Stick for cable routing, large antenna management, glow stick bundles, push-to-talk radios, or whatever else you need to access directly.
Cole-Tac's motto is if you can't make it perfect, make it adjustable. Keep your gear securely fastened and ready with an Adaptive Gear Stick.
Features:
Flexible and Strong Tegris Backer
MOLLE Compatibility
Shock Cord, One-Wrap Retainers, and Elastic Bands Included
Made in the USA
Can Fit CAT and SOF-T Wide Tourniquets.