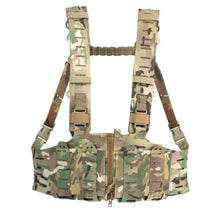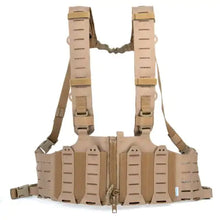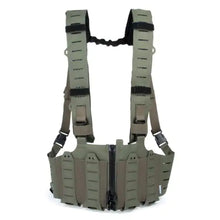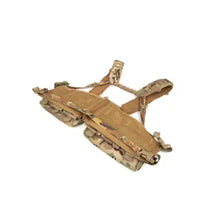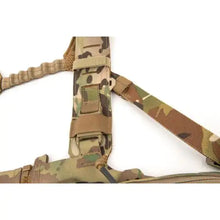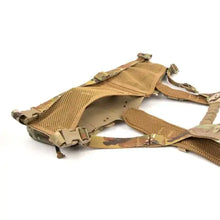 Blue Force Gear offers some of the most innovative and lightweight nylon gear on the market. 
The Ten-Speed

 
SF
Chest
 

Rig features a split-front design, making it easy to unzip when lying prone. This low-profile tactical chest rig removes unnecessary bulk with a minimalistic, lightweight design. The Ten-Speed military-grade elastic pouches are designed to lay flat when not in use and

 

will secure four M4 / AR / SR25 / AK / SCAR-H magazines and
 other similarly sized items.

 
MOLLEminus
™ fields on the front of the magazine pouches allow additional

 
MOLLE

 
accessories to be mounted

 
to the
 front of

 
each mag
 

pouch.
 The Ten-Speed SF Chest Rig from Blue Force Gear was developed with recce operations in mind, where the need to lay prone for extended periods can be complicated by gear mounted to the front of body armor. Designed to be worn over armor or by itself, the SF Chest Rig unzips top-to-bottom and can be spread open to move any chest-rig-mounted kit to the sides for a more comfortable prone position.
Dedicated Pouches for M4, M16, and AR-style Magazines to AK, SR25, and SCAR-H Mags
The front of the chest rig features four stackable mag pouches (AR / AK to M4 / SR25). The military-grade elastic allows metal or polymer mags to fit securely and lay flat when not in use, and the pouches are overlayed with ULTRAcomp® high-performance laminate fabric for extra strength.
MOLLEminus™ (MOLLE Attchement) Accessory Fields
Each of the SF M4 Chest Rig's four Ten-Speed mag pouches features single-column, 6-row MOLLEminus fields and two additional columns of 5-row MOLLEminus fields on each side. This makes it easy to add the BFG Low Pro GP Pouch (designed specifically for this chest rig) or other MOLLE-compatible pouches and accessories.
Inner Mesh Storage on Backside of Chest Rig 
Mesh storage pockets inside the chest rig provide additional storage, perfect for maps/paperwork, the BFG Micro Trauma Kit NOW! – Nano, or extra ammo mags. 
Versatile Padded Shoulder Straps
The SF Chest Rig has padded shoulder straps with integrated comms cable and hydration tube management. MOLLEminus fields make it possible to attach additional accessories, and side-release buckles make it easy to completely detach the front of the chest rig for integration with some third-party plate carriers and hydration harnesses. 
As with all Blue Force Gear, it is made with excellence in the USA and carries a limited lifetime warranty.