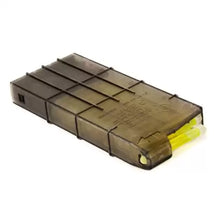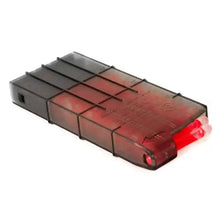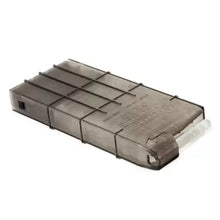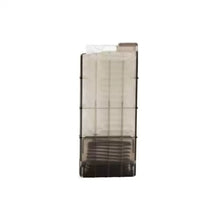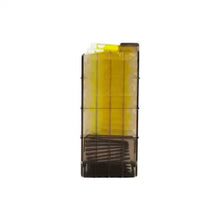 Blue Force Gear offers some of the most innovative and lightweight nylon gear on the market.
Gone are the days of 100mph tape, 550 cord, and the frustration of your marking light bundles. Envisioned after many wasted hours of prepping traditional 4" and 6" chem lights, the MARCO® Marking Light Dispenser is an incredibly efficient and compact way to carry marking sticks for room clearing and many other applications. These disposable marking light stick dispensers take seconds to prep, rip open the foil packaging and slap the MARCO dispenser into the belt, MOLLE or Kydex carrying pouch.
The 2" marking lights put out the same light under night vision devices as taped up 4" or 6" chem lights and is designed to prevent accidental breaks and glow.  The MARCO is preloaded with 30 - 2" marking lights that give roughly the same lumen output as a taped up 4" traditional chem sticks in a package smaller than a standard M4 STANAG mag.  
The MARCO is perfect for night time or low level light tactical training - drop them in a line to create a visible firing line and drop one under each target to approximate target location. 
IMPORTANT: Keep in original wrap until ready to use. Do not puncture or cut product. Marking Lights begin degrading once removed from wrapper. Ingredients are non-toxic and non-flammable but may cause temporary discomfort. In case of skin or eye contact rinse toughly with water. Do not drink or ingest contents. After use dispose of in refuse container. Not for use by children 12 years or younger. For inquiries on product use and safety call 1-877-430-2583
**Carrier Pouch Not Included.**
Carrying pouch is not included with the purchase of MARCO® and is sold separately. 
We carry the 10 Speed MARCO Dispenser Pouch.