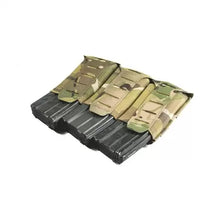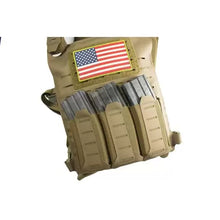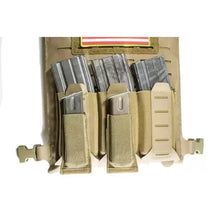 Blue Force Gear offers some of the most innovative and lightweight nylon gear on the market.
The Stackable Ten-Speed M4 Mag Pouch builds on the Ten-Speed Pouches used by the best-of-the-best worldwide and now adds a single row of MOLLE on the front to stack additional pouches.  The perfect blend of speed and security, Ten-Speed® pouches use military grade elastic combined with ULTRAcomp® high performance laminate to create a multi-use pouch that weighs almost nothing and lays flat when not in use.
The ULTRAcomp from the back of pouch is brought under and around to the front of the pouch and sewn to the front elastic and then laser cut creating a single column MOLLE compatible MOLLEminus™ slots.  This detail adds one column per magazine pocket and also increases the abrasion resistance of the bottom edge of the pouch when crawling or getting abraded by other gear. 
The M4 sized Ten-Speed pocket can fit a wide range of items and gear.  Sized around a STANAG M4 magazine, it also fits all kinds of AR mags, Magpul mags including the new Gen 3, larger SMG mags such as the UMP or P90, flash bangs, trauma gear, small radios, GPS units, small cans, or any other similar sized items.  If it fits, it's good to go!