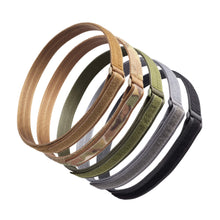 The Low Profile Inner/EDC Belt features loop velcro all the way around the belt and is designed to be worn under an outer belt with hook velcro on the inside of the outer belt. The Low Profile EDC/Inner Belt is meant to be worn through your belt loops and it functions as an excellent EDC belt when it's not being used as an inner belt.
The Low Profile Inner/EDC Belt is made from two layers of high quality 1.5″ nylon webbing that are sewn together with matching color bonded nylon thread creating an extra strong and extra stiff belt that looks great. The sizing is specific to each pant size, yet allows for movement of your waistline or for the extra space you need for your IWB daily carry. We make each belt with pride in the USA and they carry a Lifetime no-questions-asked Warranty!
Typically these are made to order at Blue alpha but if they are in stock, they will be shipped immediately during normal business hours. 
Sizing is specific to pant size so no worries about a "one size fits most" issue.