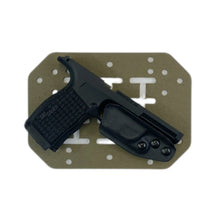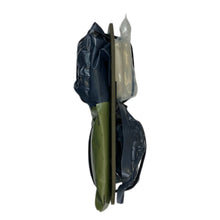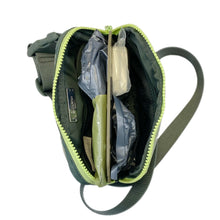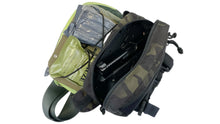 The Rigid Bag Panel-Micro (RBP-M) was designed for use in fanny packs or purses. The panel enables the end user to divide and organize mission essential equipment while maintaining the low signature that Black Triangle products are known for. The RBP-M can be used to carry medical/IFAK items (not included) or as an off-body concealed carry platform.  
This panel fits perfectly in the Cole-Tac SERE Sack and LBT 9022 as well as other medical pouches!
Specifications and Details
1/8" thick Boltaron (Black and FDE)
7" Length
5" Width
20 non-riveted 1/4" holes
3 column of "shifter channels" for shock cord and trigger guard holster/ accessory mounting. 
 Each Panel comes standard with 2 strands of 1/8" braided shock cord fastened to the panel. Four 1" industrial velcro hook squares are also included with the panel.