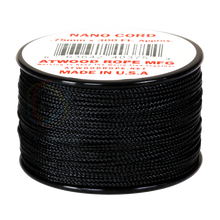 Here at Full Metal Jacket we get to check out a lot of cool stuff, some things we make permanent staples in our kit and we're glad to add Atwood Rope to that list! Atwood Rope's Nano Cord has proven itself as a fantastic add on to any piece of kit whether that be in a general purpose pouch on your ruck, in the glovebox of your truck and just about anywhere else you can think!

This rope is even smaller than micro cord and still 36 lbs test, is a very versatile product.
This cord is perfect for intricate jewelry makers, crafters, macrame artists etc. Great for bracelets, lanyards, and key chains. Used for fishing line, handle wraps, wind chimes / dream catchers, beading etc.
Great for backpacks and emergency kits. This rope comes on a small reusable plastic spool.
Specs
• Rope Diameter - 1/32" / .75mm
• Tensile Strength - 36 lbs / 17 kg
• Weight (oz/300ft approx) - 2.8oz / 80g
• Material - Polyester / Nylon
• Lightweight & Strong
• Color Will not run or bleed
• UV & Rot Resistant
• Made In The USA
COLORS MAY VARY FROM PICTURES