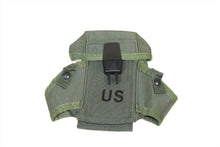 Brand new M16 pouch.

Attaches to load bearing equipment via two ALICE clips.

Holds 3 x 30 round M16 magazines and two grenades in external pockets.

When purchasing multiple pouches, all pouches we send you will be of the same type.


There will be color variations between pouches, and possibly even within the pouch itself. These are all original manufacturer variations and not defects.
Internal pocket for 3 magazines.
Two external grenade pockets.
Two ALICE clips for retention on load bearing equipment.