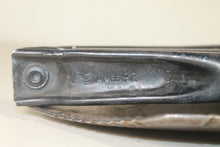 US Government issue shovel in used, but completely usable condition. These are 100% the real deal, actual US issue. Not "style" or "military type" which are almost always made in China. 
These are offered in good used condition, and may have quite a bit of finish removed. May also have quite a bit or dirt or even some rust on them, but they are all serviceable and would clean up if so desired. 
The iconic three part folding shovel as has been issued to US forces since the late 1960's. 
Perfect for leaving in the trunk just in case or for CIF (Central Issue Facility) turn in. 
NSN: 5120-00-878-5932 
Not all have the NSN printed on them, and the manufacturers will vary. Most are made by Ames however. 
These are normally carried in a plastic shovel carrier, which is available separately.