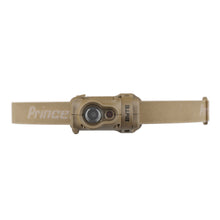 Princeton Tec has been revolutionizing lighting systems for the modern operator for the last few years. Princeton Tec offer full modularity in most of their designs so you can use them in just about every situation.
The Byte Tactical headlamp is compact, military tough and is housed in an ultra light, 2 AAA platform.
Princeton Tec's premiere overmolding process results in a waterproof, drop-proof, reliable housing. This headlamp boasts four output modes, the strongest of which can shine up to 48m.
EOS Features:
200 Lumen White Spotlight
4 Lumen Red Floodlight
Elastic Headband