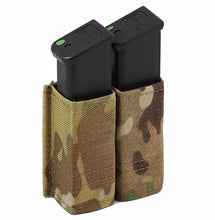 ESSTAC has made a name for themselves with their hybrid Cordura/Kydex pouches. ESSTAC is known for great quality and fantastic modern shooter solutions. 
Fits most 9mm, 40cal, 45acp Double Stack Magazines. 
Glock 19 magazines are the shortest you would want to use in these pouches.
(Will not work for Glock 26 or similar magazines as they are too short in height).
ALL ESSTAC Pouches purchased from FMJ will include Tactical Tailor MALICE clips only.