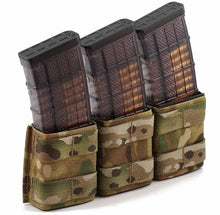 ESSTAC has made a name for themselves with their hybrid Cordura/Kydex pouches. ESSTAC is known for great quality and fantastic modern shooter solutions. 
Designed to work on most plate carriers on the market with adjustable MOLLE placement on the rear of the pouch. The triple magazine pouch is ideal for reindexing rifle magazines with their KYWI design. 
This pouch is made for STANAG magazines.  "AR15 style magazines".
**AK magazines will NOT work in this pouch.**
Size: 3.5" Tall x 9.25" wide
ALL ESSTAC Pouches purchased from FMJ will include Tactical Tailor MALICE clips only.