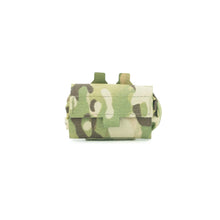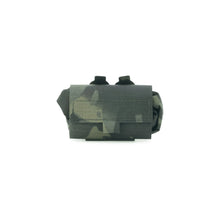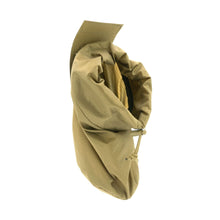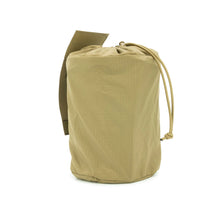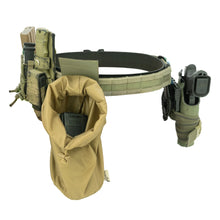 Dump pouches are often a trade-off these days. Either you find a lightweight pouch, but it has limited capacity and fragile construction, or you find one with increased capacity, but it is bulky and heavy. Using lessons learned from lightweight camping and backpacking gear, the Cole-TAC Compact Dump Pouch alleviates those issues with its compact size, large storage area, and tough, featherweight 70D fabric.
Cole-Tac's new Dump Pouch fits eight AR magazines, five hand grenades, a 150-round siege belt, or anything else you deem mission essential. In addition to its compact size and large storage capacity, the Cole-TAC Compact Dump Pouch also features a memory filament in the pouch's rim. When released, the filament quickly deploys the pouch and keeps the mouth open, making it easy to store empty magazines or other items inside, even without looking.
Stowing the pouch is just as easy and can be done without taking your eyes off your surroundings. Simply twist the rim in half, compress the bag snugly into its receptacle, and close the Velcro trunk lid. No-look opening and closing allow you to maintain situational awareness while securing empty mags or SSE evidence.
Like all of Cole-Tac's incredible products, Cole-Tac proudly manufacture the Compact Dump Pouch in the U.S.A. and back it with our lifetime warranty. Whether you're looking to increase your portable storage or reduce the weight of your kit, there's a spot on your belt for a Cole-TAC Dump Pouch.
Features:
Weight: 2 oz.
Dimensions: 2″ x 4″ x 1″ while stowed
Internal Volume: 60 Ping Pong Balls / 8 AR Magazines
Made in the USA