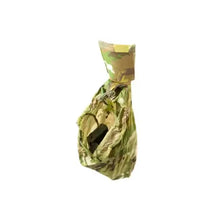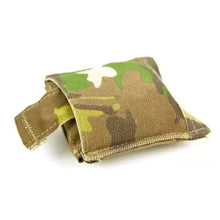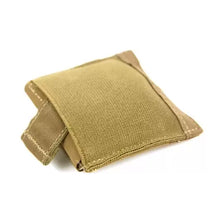 Blue Force Gear offers some of the most innovative and lightweight nylon gear on the market. 
The Ten-Speed Ultralight Dump Pouch redefines dump pouches.  Extremely compact, only taking up a 2 x 2 MOLLE field; the bag portion stays folded under Ten-Speed® elastic when not in use.  When needed, a simple pull on the bottom tab deploys a bag big enough to hold 10 M4 magazines. The stowed pouch design eliminates bulky bags flopping around posing as a snag hazard and is small enough to be mounted behind larger pouches or on duty belts.
A cinch cord at the top of the bag can be closed with one hand to secure the contents of the Dump Pouch.  The Ten-Speed Ultralight Dump Pouch functions great as a traditional magazine dump pouch, temporary supplemental pouch for breaching charges, provisions, SSE items, trash, spent casings, or extra water bottles during infill.  The rip stop nylon bag can be used for foraging for food or kindling or even work as an emergency water filtration component.
Stowed dump pouch is 3" x 3.5" x 1"
The Patented Helium Whisper® attachment system is compatible with all MOLLE platforms and built with a combat tested, high performance laminate that reduces weight up to 60% while equaling or exceeding the durability of 1000D CORDURA®. The latest material innovation of the Ten-Speed® pouches have been modified for optimized retention and greater durability.