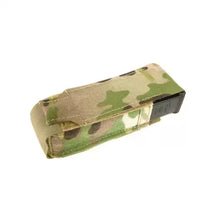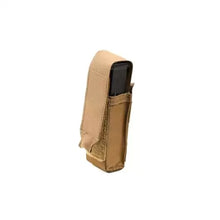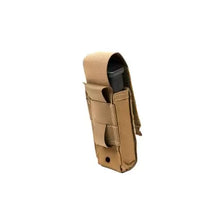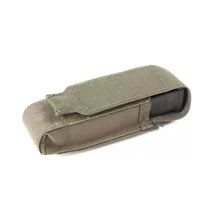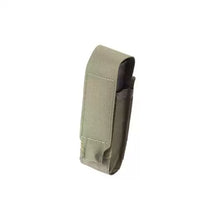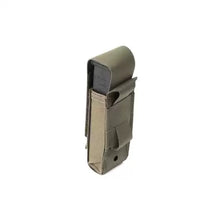 Blue Force Gear offers some of the most innovative and lightweight nylon gear on the market.
The Single Pistol Mag Pouch holds most any single or double stack pistol mag (up to and including double stack HK45 mags), a light, multi-tool, or other similar sized item. The Pouch can accommodate different sized items by closing the flap further down the hook and loop field. Only occupying 2 rows of MOLLE, the Single Pistol Mag Pouch can be mounted on the sides of the Admin Pouch, Trauma Kit Now!, or a free column on a plate carrier or chest rig.
The Patented Helium Whisper® attachment system is fully MOLLE compatible and built with a combat tested, high performance laminate that reduces weight up to 60% while equaling or exceeding the durability of 1000d CORDURA®.
The Ball Loaded Index Point, or BLIP for short, is an enhancement in the pouch lid that allows for positive grip with cold, wet, gloved hands, or for use in the dark.  A small nitrile rubber ball is sewn into the pouch lid which saves weight over traditional lid tabs but provides a mechanical interference between the fingers allowing for consistent pouch opening in adverse conditions. 
 
As with all Blue Force Gear, it is made with excellence in the USA and carries a limited lifetime warranty.