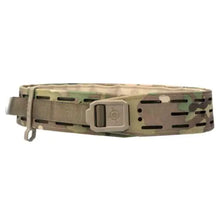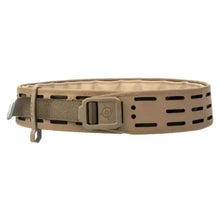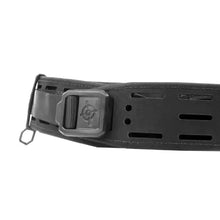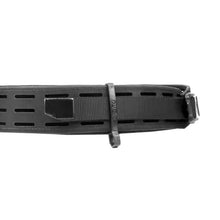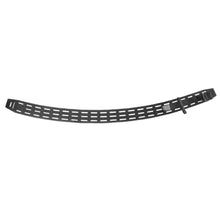 Blue Force Gear offers some of the most innovative and lightweight nylon gear on the market. The Blue Force Gear GRID™ Belt is based on a two-belt inner/outer belt system and features laser-cut MOLLEminus slots for attaching holsters and other gear. The GRID Belt is an excellent duty belt for most military, police, and law enforcement personnel. It is also an ideal choice for sports shooters, prepared citizens, or anyone looking for a "war belt" who doesn't need a belt with load-rated capabilities. 
The Blue Force Gear GRID Belt revolutionizes modern battle belt design. The GRID Belt incorporates all the load-carriage and design features from the popular Blue Force Gear CHLK™ Belt minus the specific load-rated capabilities required by helicopter assaulters. The result is a low-profile duty belt without unnecessary features that create additional weight and cost.  
Inspired by the changes leather belts undergo after they have been broken in from everyday use, the GRID Belt features a 32-degree curve designed to mimic the contour of the human waist. The belt also features a subtle outward cant from top to bottom, resulting in a more comfortable fit at both the waist and the hips. This makes it far better suited for long-term wear than typical flat-profile battle belts.  
The GRID's outer belt comes standard with a patent-pending glass-filled nylon buckle that is significantly more durable than a plastic SR buckle. The patented one-piece buckle uses the GRID Belt itself as the fitment point resulting in an extremely low profile, easy-to-use closure. Optional COBRA® Quick Release Buckle upgrade kits are available for the GRID Belt and can be purchased separately. 
The MOLLE-compatible outer belt is designed to attach via hook-and-loop to the updated inner belt securely. Using modern materials, including our ULTRAcomp high-performance laminate, the outer belt is lightweight and flexible enough for long-term comfort. Still, it is rigid enough to serve as a stable attachment platform for pouches and duty holsters.  
The cushioned inner belt, laser cut from our ULTRAcomp high-performance laminate, can also be worn independently as a lightweight EDC or pistol belt. The ULTRAcomp inner belt has been updated for 2023 to include a G-Hook for improved fit and a more secure connection.  

Specifications/Features:
Best Use: Patrol / Range / Tactical
Belt Style: MOLLE Attachment
Frame Type: Internal Frame
Material(s): Rigid Composite Laminate, ULTRAcomp™ laminate, TEX 70 bonded nylon thread, and Tubular webbing
Frame Material: Rigid Composite Laminate
MOLLE Slots: 3x22 to 3x30 depending on size
Additional Features: Molle compatible Molleminus field, Dapper compatible loop lining in main and front compartments