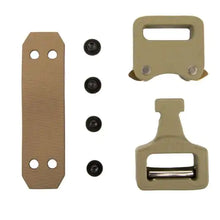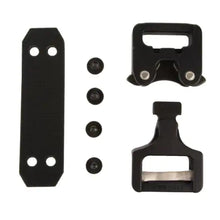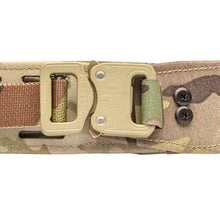 Blue Force Gear offers some of the most innovative and lightweight nylon gear on the market. 
Upgrade the buckle on your GRID™ Belt in minutes with this simple DIY kit. The kit includes a 25 mm COBRA® ProStyle 18kN buckle in your choice of black or tan, a color-matched ULTRAcomp® buckle-to-belt tether, and all the necessary attachment hardware. 
Features:
The Buckle Upgrade Kit features the patented next-generation COBRA® ProStyle buckle, adding quick-release functionality and a heavy-duty aesthetic. The adapted stab-lock guarantees a smooth locking mechanism, prevents unintentional opening, and provides quick-release functionality. Meets ANSI and CSA standards as well as salt fog and blowing sand test certifications.*
*The COBRA Buckle Upgrade Kit does not add load-bearing capabilities to the GRID Belt. The GRID Belt is not load­-rated. It should not be used for rappelling or as a safety restraint of any kind. If you need a load-rated belt, check out the CHLK Belt.