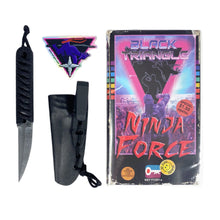 Senka was product originally made by Sentinel Concealment Gear, the predecessor to Black Triangle. Senka is a Wakizashi-style tool that features the classic dagger bevels that original Black Triangle tools were known for. Senka continues the tradition of non-metallic knives for professionals and responsible citizens. Senka, like all Black Triangle G10 knives, are point-driven. There are no edges. 
OAL 7 1/4"
-Included with tool is a taco-style high-grade thermoplastic sheath. 
G10 tools come packaged in original Black Triangle VHS case and includes a Black Summer II holographic sticker.
*Black Triangle G10 knives are backed by a lifetime guarantee. If something caustic happens to your product, contact Black Triangle Vis Email for warranty information.  
*SHIPPING TO OCONUS APO/FPO/Diplomatic Post IS NOT RECOMMENDED!!! You'll likely get the item rejected. Please consider this when ordering!!!