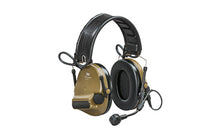 Peltor by 3M has been the go to by shooters since they were first introduced. The Comtac 6 is the newest offering from Peltor and it shows. The Comtac 6 has an omni-directional mic and high fidelity speakers for peak clear communications. 
Features:
Protective communication solution for clear communication in noisy environments NIB (Natural Interaction Behavior) wireless technology.
Environmental microphones for level-dependent hearing protection and auditory situational awareness.
Water and dust-proof noise-cancelling microphone (IP68) for clear speech transmission in noisy and harsh environments
Advanced environmental listening modes (Mission Audio Profiles or MAP) that optimize the auditory experience based on specific external conditions.
Helps provide hearing protection when exposed to hazardous noise.
Rugged 3M PELTOR Design for trusted performance.
Made in the USA with globally sourced materials.
Note downlead cable is not compatible in this Peltor model.
Model # MT20H682FB-09N CY
*NO RETURNS ON ELECTRONICS WILL BE ACCEPTED*