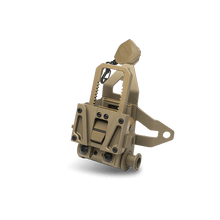 Wilcox has been the name in the game for modern night vision mounting solutions.
The Wilcox G69 NVG Helmet Mount is a permanently fixed mount that securely locks the NVG onto any helmet drilled with a standard three-hole configuration.
Allows an operator to attach an AN/PVS-7A, 7C, 15 or 18 NVG to a helmet. Custom interfaces allow the additional mounting of an AN/PVS-7B and 14 NVG.
The G69 mount offers several adjustment points to create a precise fit and allows the operator to flip the NVG's out of the way when not being used.
The G69 mount provides all the same features as the G66 mount with greater weight savings and extended vertical travel adjustment.
Works with all night vision that we carry. 

Specs:
Increased vertical/horizontal travel for use with 

protective masks, bridges and NVG's

Redu

ction of material with increased strength to weight ratio

Dovetail shoe interface securely locks NVG's into place
Lightweight/low profile three hole fixed bracket shroud
Flip mechanism allows NVG to be stowed while not in use
Several points of adjustment for proper eye relief
Compatible with three-hole drilled helmets
Wilcox Part Numbers:
28300G69-B (Black)
28300G69-T (Tan)
 ITAR Restricted. 
Cannot ship outside of the United States or to forwarding addresses. No exceptions.