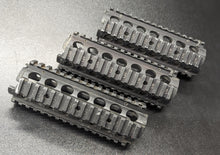 Knights Armament Company or KAC has been making some of the best weapons accessories and weapons for the US Government during the GWOT. 

These are Government Used Surplus take offs. All Rail kits appear to be in pretty good shape with some minor dings or scratches.
All are Titusville Florida Marked
Cage 15002
ITAR Restricted. 
Cannot ship outside of the United States or to forwarding addresses. No exceptions.